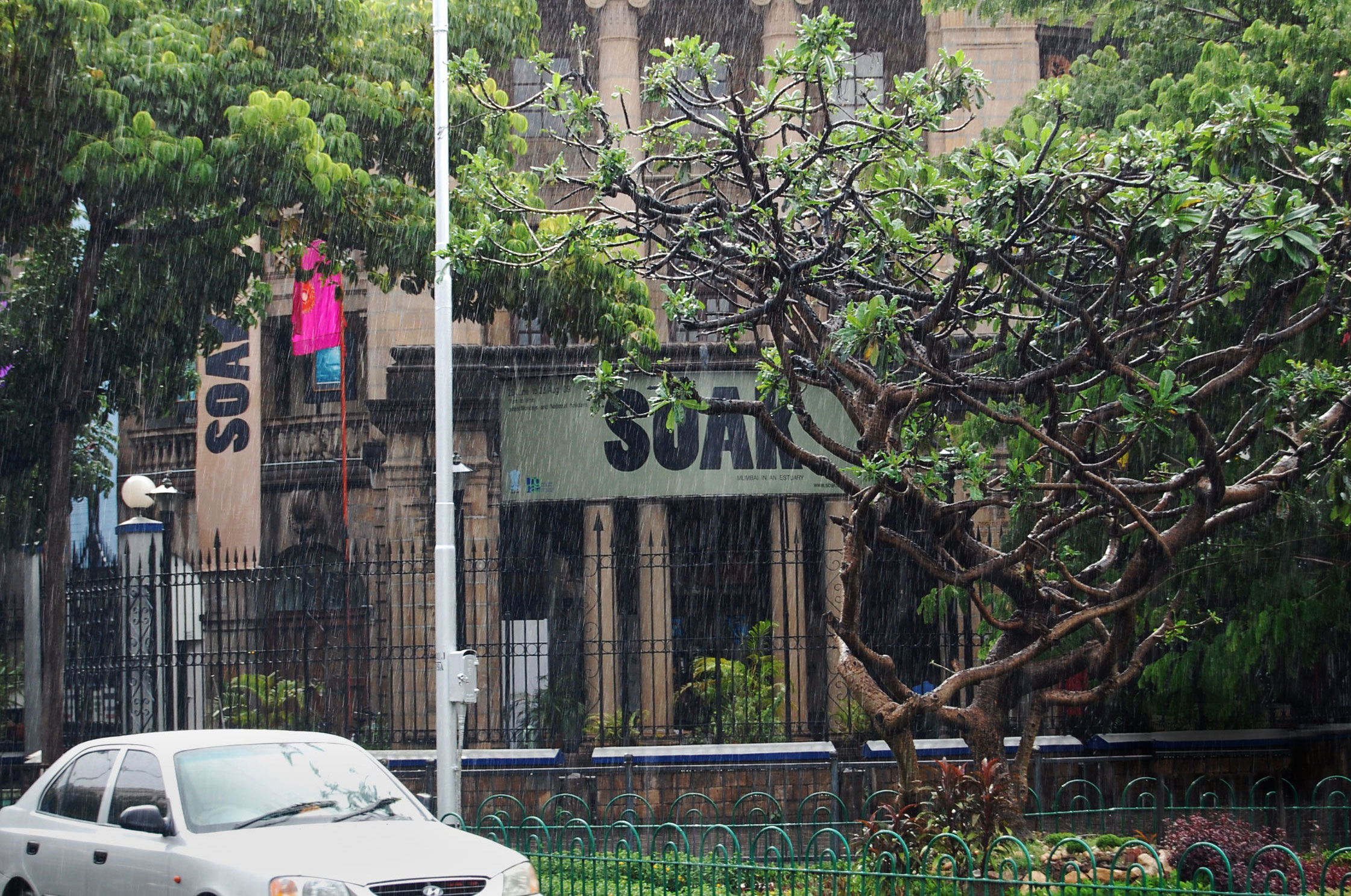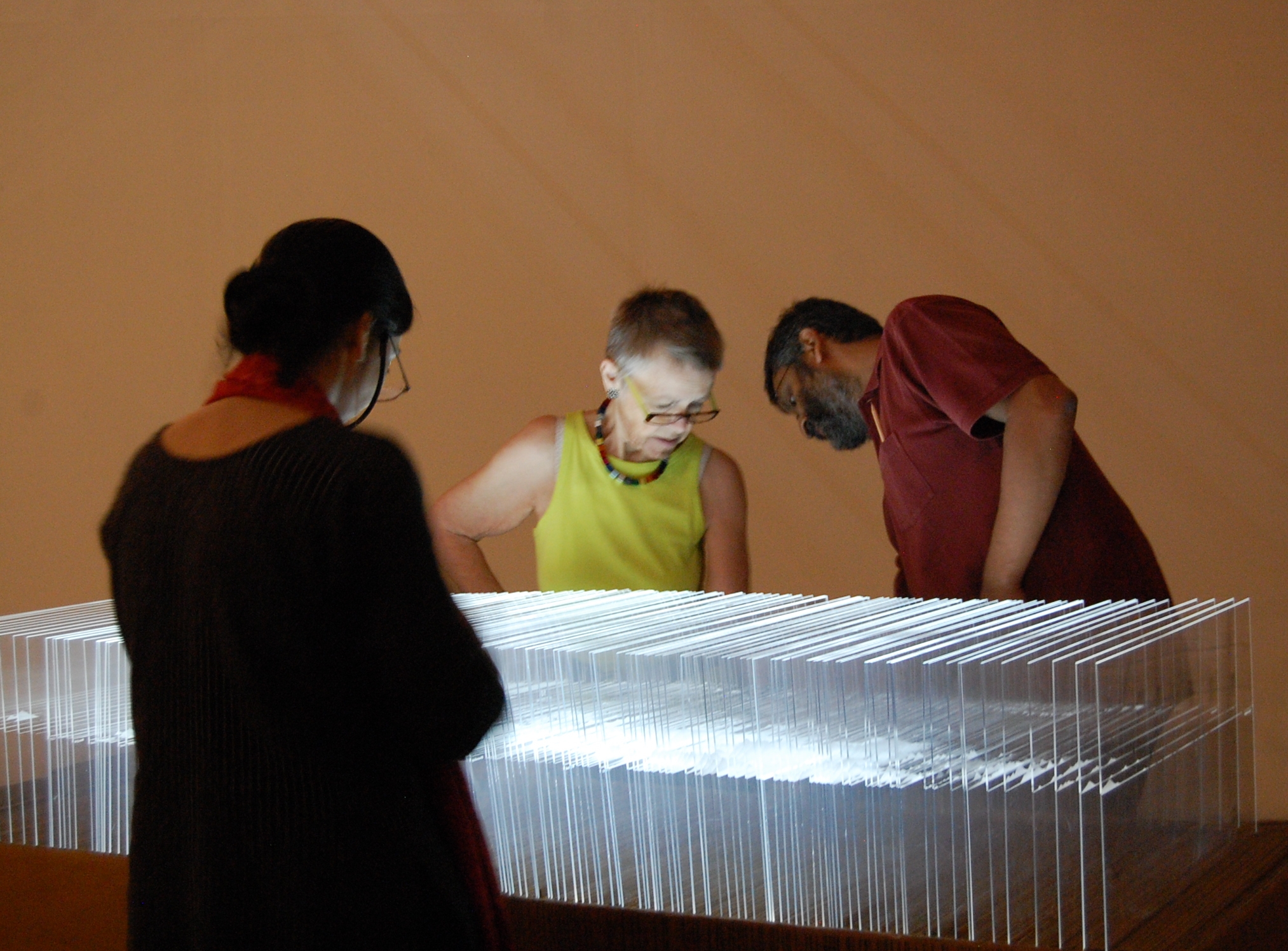 SOAK
MUMBAI IN AN ESTUARY
Soak is a new visualization of Mumbai. It seeks to change the image of Mumbai from an 'island city' once called Bombay to an 'estuary' and further, to an estuary in the monsoon. It does so by changing the terms of discourse and design from spatial land uses to temporal practices, from draining water to holding rain in multiple ways, from separating land and water to negotiating rain and tide. It proposes projects that recover the many worlds of soak.
Until recently Mumbai was accustomed to being soaked by the monsoon. The rains of July 26, 2005, however did not soak the city; they flooded it. Hundreds died and much property was lost as parts of Mumbai went under many feet of water. Those rains were unusual. The average for the whole season fell in a day – 944 mm.
However, it takes much less to flood Mumbai today. 100 mm of rain or less is enough to cause a 'flood' and suggest that Mumbai is shifting from welcoming or abhorring a soak by the monsoon to fearing and fighting being flooded by it.
THE WAR AGAINST THE MONSOON
Awaiting the monsoon for better or worse is increasingly being replaced by a readying for battle.
The build up to war has occurred on many fronts, most pertinently, through the cultivation of an attitude grounded in the belief that land and water are separable. This attitude has encouraged a landscape of hard edges and clear and distinct entities, and fostered a spirit predisposed to privileging land over water, firmly held property lines over open terrains, defined land uses over fluid occupancies.
It takes a considerable effort to enforce firm ground anywhere, but it is particularly difficult to do so in an estuary, the primary ecology of Mumbai. Unlike deltas where rivers reach into the sea, estuaries allow the sea in. As such the rise and fall of the sea is not restricted to a coastline but is carried inland on a gradient that takes with it not just predictable tidal levels but the complexities of the world's oceans where the unexpected reaches beyond the horizon and often beyond control. Here the war against the monsoon is also a war against the sea.
If the monsoon has been cultivated as a seasonal opponent, the sea has been made a perennial one. Sea walls, landfills, causeways, tetrapods, knowledge and prediction have been used to keep the sea out. The 2005 flood, however, stilled Mumbai long enough to take notice of the sea within land's edge. It is an occurrence that can be expected to occur more often with the predicted rise in sea levels.
THE MITHI
The Mithi is Mumbai's poster child of the war against the monsoon and the sea. Few knew of its existence prior to the 2005 flood. Called a river by some and a sewer by others, maps show it to be fifteen or so kilometers long, running from the Vehar Reservoir in the hills of North Mumbai, beneath the runway of the international airport, between the ambitious Bandra-Kurla scheme and the famous 'city within a city' of Dharavi, to exit through Mahim Bay.
Whether as river or sewer the Mithi is singled out by engineers and the public as a primary cause of the 2005 flood because it failed to fulfill the dual role of a drain, which is, carrying monsoon waters out to sea and accommodating the high tide of the Arabian Sea. Today, engineers are working to 'master plan' the Mithi, 'training' it with walls to conform as much to two lines on a map as to a channel on the ground, although it is intended that this channel be 'landscaped' to also satisfy a 'recreational' need.
It is an end-scenario that is questionable not only for its continued refusal to engage an estuary; it is also questionable by its own measures. The planned channel is far too small to carry the waters of another 944 mm rainfall which is deemed by engineers an event that is too expensive and improbable to accommodate both politically and financially given the size of the channel that it demands and the extent of settlement that it will displace.
SOAK
An estuary demands gradients not walls, fluid occupancies not defined land uses, negotiated moments not hard edges. In short, it demands the accommodation of the sea not a war against it which continues to be fought by engineers and administrators as they carry sea walls inland in a bid to both, channel monsoon runoff and keep the sea out.
Soak is an appreciation of an aqueous terrain. It encourages designs that hold monsoon waters rather than channel them out to sea; that work with the gradient of an estuary; that accommodate uncertainty through resilience, not overcome it with prediction. It moves Mumbai out of the language of flood and the widely accepted trajectory of war with the sea and monsoon that this language perpetuates. It recovers the world of soak.
THERE ARE THREE SECTIONS TO THE SOAK EXHIBITION
1.0 COASTLINE
ISLAND 1.1
COAST 1.2
RIVER 1.3
The first section of Soak looks at the build up to war against the monsoon as rooted in a belief that land can be separated from the sea. It traces the drawing of the coast line; its tentative if artful beginnings in early European maps and its pursuit in the "fair weather season" by English marine and land surveyors in the 18th and 19th centuries.
2.0 ESTUARY
ENTERPRISE: PORT / BAZAAR 2.1
DEPOSITION: SWAMP / GHAT 2.2
SATURATION: MONSOON / TALAO 2.3
PPROPRIATION: OART / MAIDAN 2.4
In the second section of Soak we draw out landscapes that survive beyond the delineating eye of the surveyor and pervasive colonial descriptions, both appreciative and critical, that begin by seeing Mumbai's terrain divided into objects in geographic space. These landscapes, which include swamps, oarts, talaos, and bazaars, occupy the fluid and open gradient of an estuary, a terrain that operates more as a filter between land and sea than a line between them. They demand a different way of seeing and a different mode of representation through section, horizon and time.
3.0 PROJECTS
Mumbai's estuary does not work by probabilities. Instead it works by possibilities. It calls not for end scenarios but initiations that evolve by a visual, political and technological fluidity and agility that befits the temporality, uncertainty and complexity of a place between land and sea.
In the third section of Soak, we propose 12 initiations in a terrain that reaches from the hills of Salsette, with their commanding access to the sea to the north, east, south, and west, to the five historic forts of Worli, Mahim, Rewa, Sion and Sewri that were once waterfront sentinels of Mumbai's estuary. Each initiation works to resolve the problem of flood not by enforcing lines but by transforming Mumbai into a place that absorbs the monsoon and sea, a place that accommodates soak.
1. WORLI FORT/ 2. MAHIM FORT / 3. REWA FORT / 4. SION FORT / 5. SEWRI FORT
6. MAHIM CROSSING/ 7. SION CROSSING/ 8. VAKOLA CROSSING/ 9. AIRPORT CROSSING/
10. AAREY CROSSING
11. TULSI WEST/ 12. TULSI EAST
The exhibition SOAK opened at the NGMA (National Gallery of Modern Art) in Mumbai on June 23, 2009.
Anuradha Mathur and Dilip da Cunha initiated SOAK as a public exhibition and book aimed at recovering and inventing ways of inhabiting Mumbai as a monsoon and estuarian landscape. They have produced all the drawings and text in the exhibition and book, and hold copyright for the above.
Kavita Khanna was involved with SOAK from the time of its conception, particularly in fundraising for the exhibition and disseminating its ideas. Trapeze Studio worked closely with the authors to give a conceptual and visual form to the design of the exhibition and book.